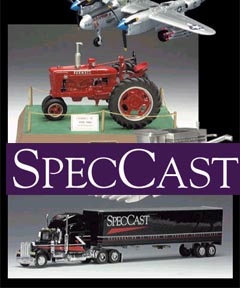 SpecCast is a leading manufacturer of quality die-cast and pewter collectibles, including vehicle and airplane banks, 1/16 tractors, belt buckles and pewter replicas. SpecCast was founded in 1974 in Rockford, Illinois for the purpose of producing die-cast belt buckles.
In 1986 the current owner of SpecCast, Dave Bell purchased the business. Within a year, the company was moved from Rockford to Dyersville. The company is now focused on diversifying products within existing product lines. SpecCast now releases collectible cars, trucks, tractor trailers, planes and blimps. The three market areas currently include Ag-Related, Retail and Custom Imprint for promotional and specialty items. Licensing has been obtained from such companies as Pepsi-Cola, Hershey´s, Planters, Nabisco, John Deere and Harley Davidson - to name a few.
The company employed only a handful in 1986 but today approximately one hundred employees report to work each day.
SpecCast toys well suited for collectors and older children alike.