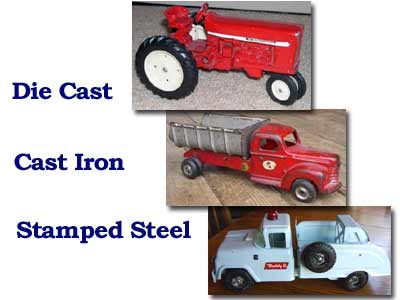 The word 'diecast', although very popular in the collector world, should actually be either 'die cast' or 'die-cast'. In a nod to the various popular forms of the word, this page will use diecast, die cast, and die-cast interchangeably.

Definition: The term refers to the process of forcing molten metal, under great pressure, into a die or form to give it a specific shape.

Die casting is rather expensive to set up, but can produce mass quantities of castings at relatively low, per piece cost. The forms, or tooling as it is usually referred to in the industry, can be very complex and often represents the largest cost associated with any given toy or model produced. The fine texture of the metal and the precision of the die can combine to create very detailed pieces when desired. The material used in diecast is actually a composition of zinc and aluminum sometimes referred to as 'zamac' inside the toy industry. It is not the same as steel or iron. Almost all die-cast toys and models have some plastic parts. For a more detailed discussion of die cast metal and the die cast process, please visit http://www.diecasting.org

There are other types of metal toys that the novice may confuse with die cast. Cast Iron is an older technology that was commonly used by toy makers in the early to mid 1900's for everything from mechanical banks to farm tractors and cars. Casting Iron produces a rather crude looking product by today's standards and is most commonly used for knock-offs and primitives that are supposed to look older than they are. Toy companies that made cast iron include Arcade, Wilkins, Hubley, Kenton and Vindex.

Stamped metal is also commonly used for metal toy making. As the name implies, a sheet of steel is stamped or shaped by a form to create the desired shape. Stamped metal toys where very common in the post war era and can still be found in limited quantities on store shelves today. Toy companies that made stamped steel include Tonka, Buddy L, ERTL, and Nylint.

Everyone will agree that the rise of the internet contributed greatly to an explosion of interest in specialty die-cast models. Many people who had never seen the diversity and quality of diecast available were quick to jump into the hobby of collecting. Beginning in 2005, zinc prices began to rise substantially on the global market. For several years now the shelf price of die cast toys and models has risen steadily due to the increase in zinc prices, overseas labor, and lower production quantities. Today the trend toward greater and greater detail continues as manufacturers find increasingly creative ways to keep costs down and variety up.


The words toy, model, and replica are often used interchangeably and can be somewhat confusing. Generally speaking a toy is something that can be played with. It may be collectible, highly or not so highly detailed, accurate or very generalized. The words Model and Replica usually refer to pieces designed for display or collecting. Both are usually more accurate in regard to scale and detail. Many adults collect toys, but it is usually not a good idea to let kids play with models. A model is not an unassembled kit. The word 'kit' is the indication that a model comes unassembled.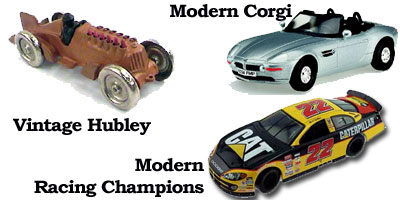 Automotive toys and models have been the life blood of the die cast trade since it's beginning. The range of vehicles produced and the list of companies producing them is extensive. [check availability]

For much of the last three decades, 1/18 scale was the most popular size for the US market. However increasing costs and reluctance of major retailers to devote shelf space to the larger packages made 1/18 less available in many cases. In recent years, 1/24 scale has become just as popular and even more accessible in the US. Europeans continued to favor the even smaller 1/43 scale.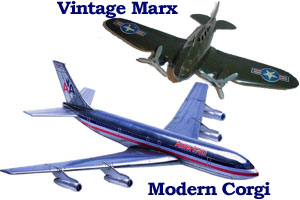 Aviation models have long been an item of fascination to kids and collectors alike. Aircraft are typically produced in smaller scales than other vehicles due to the enormous size of some planes.

Currently models are available across a wide range of prices and styles. Military planes continue to be the most popular and planes from the WWII era are enjoying a revival of nostalgia for that period. [check availability]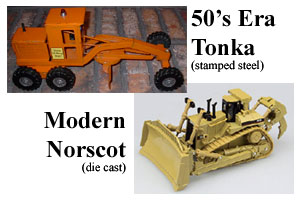 Construction toys and models have been around since the pre-war era but have enjoyed a boom in popularity during the last decade. Virtually all machines from dozers to rock drills, cranes to excavators can be found in model form. Most are aimed squarely at the adult collector and feature lots of details and craftsman ship. [check availability]

Unfortunately, most of the 'Tonka' type sand-box toys many of us had as kids have been replaced by plastic versions in recent years. However, the dedicated collector can still find many examples at garage sales and other outlets.

This link 3000toys.com/caterpillar provides specific information about licensed Caterpillar brand toys and collectibles.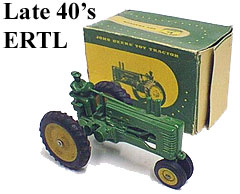 Farm toys have long been a favorite of kids on and off the farm. The very first ERTL toy was a farm tractor. Today farm toys are among the few die cast toys still produced in the United States and are one of the most widely covered and collected themes.

The Farm-Toy.com website has more information about current farm toy companies and their offerings. [check availability]
Emergency Vehicles models make up another very popular category for collectors and kids alike. Some of the earliest cast iron and pressed tin toys featured horse-drawn fire engines and early ladder trucks. Today companies like Eligor and Corgi produce a limited range of models that feature accurate markings and details for a number of different trucks and departments. [check availability]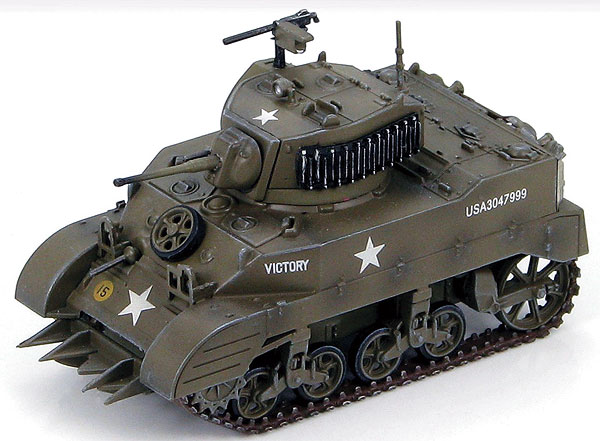 Military pieces are a staple of the model business and have been since Napoleon's army march across Europe. Collectors have long sought after detailed, authentic pieces for everything from complex battle dioramas to simple remembrances of time served in defense of the country. Modern military toys for kids are almost all plastic due the increasing complexity of the equipment being replicated. [check availability]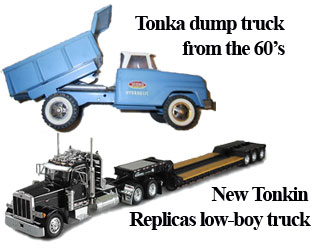 Trucking models and toy trucks have also been around since the early days of cast iron toy making. Trucks of all types have long captured the imagination of youngsters and the admiration of collecting adults. Classic forms tending to gravitate towards dump trucks, semi trucks, and fire trucks. All of which offered great play value. In more recent times the field of truck model collecting has exploded with the advent of the promotional model. These are typically replicas of fleet trucks custom produced for a particular truck line or company to use a customer gifts and employee incentives. Often an extra quantity is produced and made available to the collecting public. This has been a tremendous success for several companies including Die Cast Promotions, Tonkin Replicas, First Gear, ERTL, and many others. With limited production runs and an almost endless variety, the end is no where in sight for this segment of the market. [check availability]